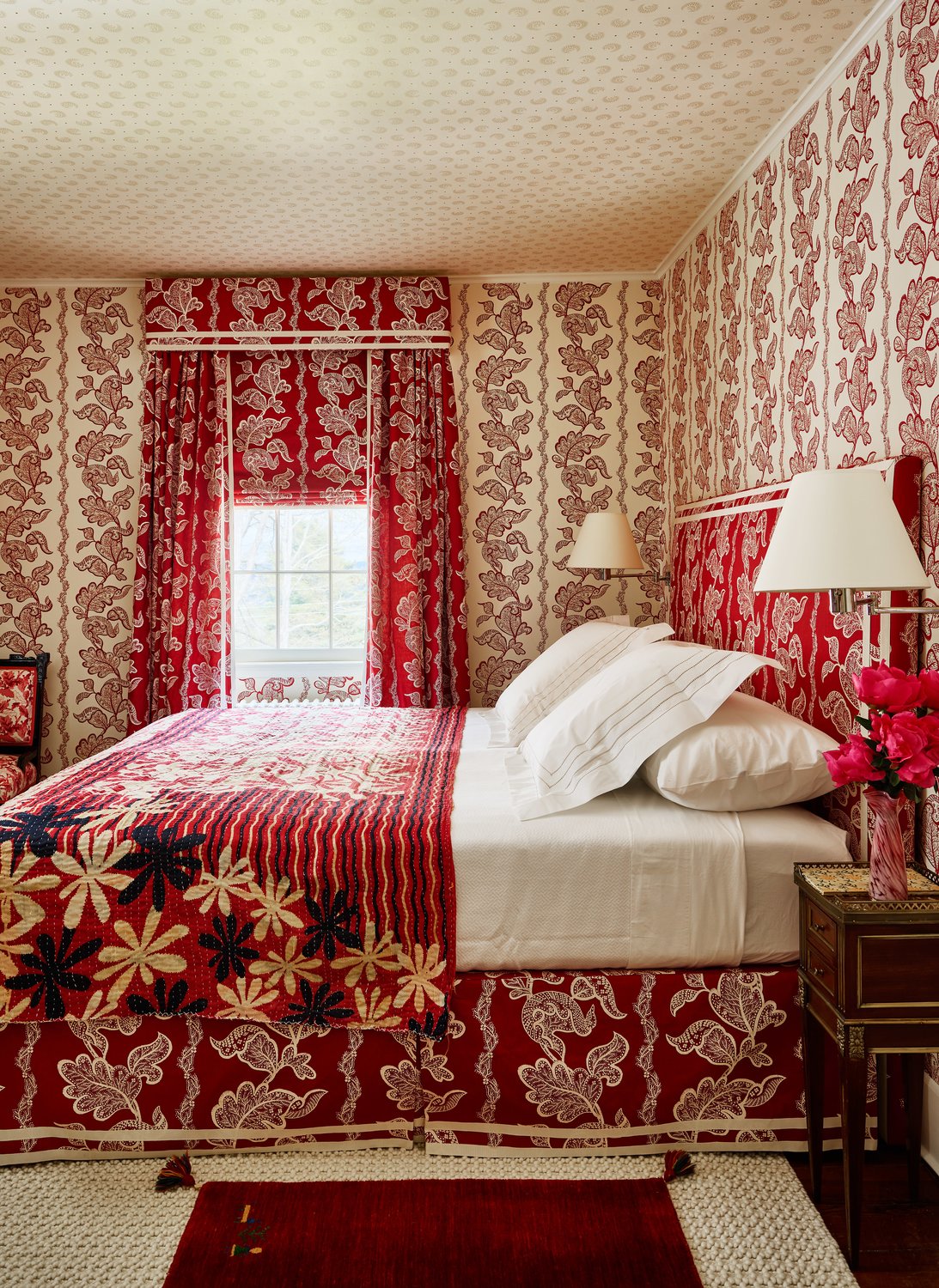 Eliza's guest bedroom was inspired by Diana Vreeland's iconic RED Park Avenue living room. Our Sintra print anchors the room with its large-scale pattern, while pops of our Desmond and Waldingfield prints offer the perfect complement. Eliza's favorite local antique shop, Montage Antiques, is a treasure trove that she loves to get lost in and sourced the vintage kantha coverlet and Eastlake style desk chair, upholstered in our Waldingfield fabric in Coral, from.
Fearless with color like her great grandmother Sister, Eliza's red scheme is both calming and welcoming at the same time- two key elements for any guest room. Add a perfect throw and any guest can lol away the afternoon with a good book and a glass of wine or iced tea.
SISTER TIP
Wallpaper the ceiling!
We love to paper a ceiling to add a special surprise when you look up! Serendipity is the perfect print for this with its stars and dots. While Eliza choose a bold print for the walls of the Red Guest Room, she went with a more subtle print for the ceiling. Working with a local paper hanger, Eliza was able to add a surprise for her guests in one days time!
SISTER TIP
The toile effect!
An easy way to make a bold statement in any space is to use coordinating wallpaper and fabric. This creates a cohesive design without everything having to be matching! Eliza did this using Sister Parish Sintra Fabric in Red and Sister Parish Sintra Wallpaper in the reverse, Red on White Ground. Guests are surrounded by the print without being overwhelmed! Guest rooms are uniquely situated to create a chic and glamorous spot to make all guests feel special which this room most definitely does.