A Guest Room that Doubles as an Office.
Designed by: Eliza Harris
Photographed By: Reed Mckendree
Don't be afraid to take risks in the guest room.
When getting started, dive into your favorite design books and channel the design muses of your dreams as you brainstorm your guest room decorations. (Diana Vreeland's iconic red living room inspired this guest room!) The guest room is where you should let your inner creative shine. It's where you can story tell and create a feeling of warmth and imagination. I love to make my house guests feel taken care of, inspired, and right at home. There is truly no better compliment than a house guest that never wants to leave. Except, when they are forced to. ;)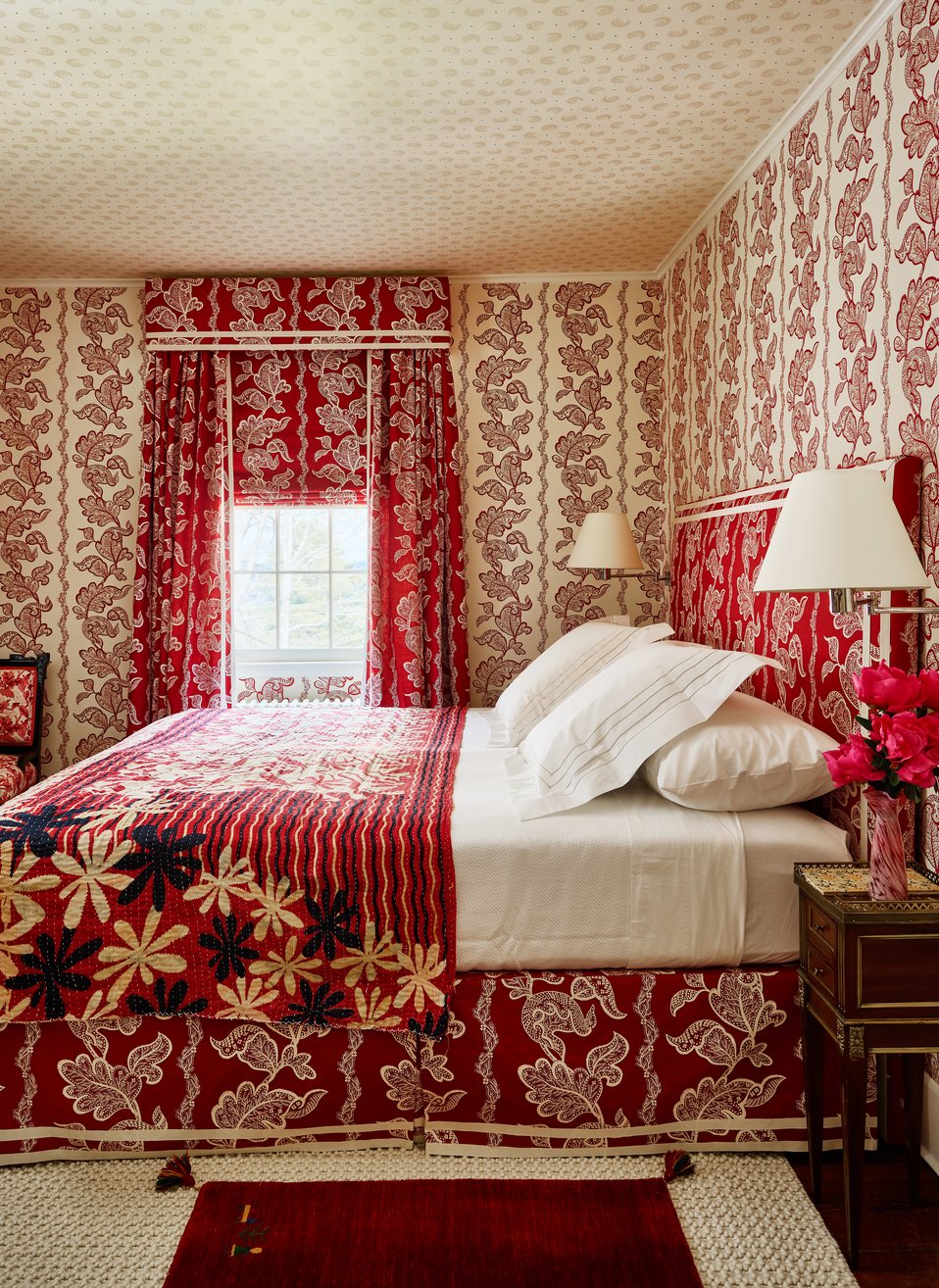 My starting point for this project was our Sintra wallpaper. I am typically obsessing over a specific fabric, wallpaper, rug, ceramic lamp, special curiosity... etc that I haven't found a perfect place for. In this case, I desperately wanted to use Sintra wallpaper in Red and the "perfect place" was our guest room. It always reminded me of Diana Vreeland's red living room, so I started from that wallpaper and that room to create a version of my own.
Order our full swatch set, grab a cup of coffee or a glass of wine, and lay out all of the samples on the floor. Take time to play around with the prints, colors, and textures. Place them in the natural light of the morning and under lamp light in the evening. From there, decide what kind of mood and feeling you want your guest room to have. This is exactly what I did with our Sintra in Red wallpaper and how I chose the other fabrics and wallpaper I used in the room.
Allocate your Prints


Textiles Used:
Eliza used Sintra in Red fabric for the curtains, flat roman shade, headboard, and bed skirt. For the walls, she used Sintra in Red wallpaper.
Once you've landed on the fabrics and wallpapers you adore, assign them to different pieces and places in the room. Begin to pick the spots where you want all of these fabrics to go. A small, all over print for lampshades works best. A larger pattern is better for a headboard.
Upholster Your Headboard


Fabric Used:
Eliza used 10 yards of Sintra in Red. For the trim she used a 1" wide tape trim.
As previously mentioned, an upholstered headboard is a fabulous way to show off a bold pattern, to add more visual interest and to give your guest room a very custom look and feel. We've had clients buy budget friendly headboards from discount furniture retailers then have the headboard recovered by a local upholsterer or even had seamstresses make a custom slipcover.
Bonus Tip: Add a writing table


I mentioned the essential guest room furniture above, but if you have the space I recommend tucking a writing table into the corner or under a window in your guest room. According to Deborah Lipman, "Decorator Mark Hampton thought the writing desk was the most essential item in a guest bedroom." I found this perfect red desk at a local antique store and it was practically begging to live in this room! It's the perfect spot for my guests to make a call or write an email – and I must admit I've taken to working from this dreamy guest room as well.
How to Get the Look!
Click on the links to shop the room below: