A classic children's room that can double as a guest room.
Designer: Eliza Crater Harris
Photographer: Grace Wilcox
Room Type: Bedroom
I'm thrilled to be sharing my best tips for creating a playful, unique space that is whimsical enough for a child's room, but sophisticated and ready to be used as a guest room in years to come.
Below I've outlined tips on picking a painted trim and furniture color, how to order my favorite custom quilted coverlet and tried and true flat roman shade from your local workroom. (Note that we've included an approximate yardage amount for certain items, but recommend you always order as much as the workroom suggests, but my hope is that the approximate yardage amount will help you budget!) Also, I included all the textiles and wall coverings we used in this space along with several sources I used for rugs, hardware and lamps, so you can get the look.
Happy Scheming!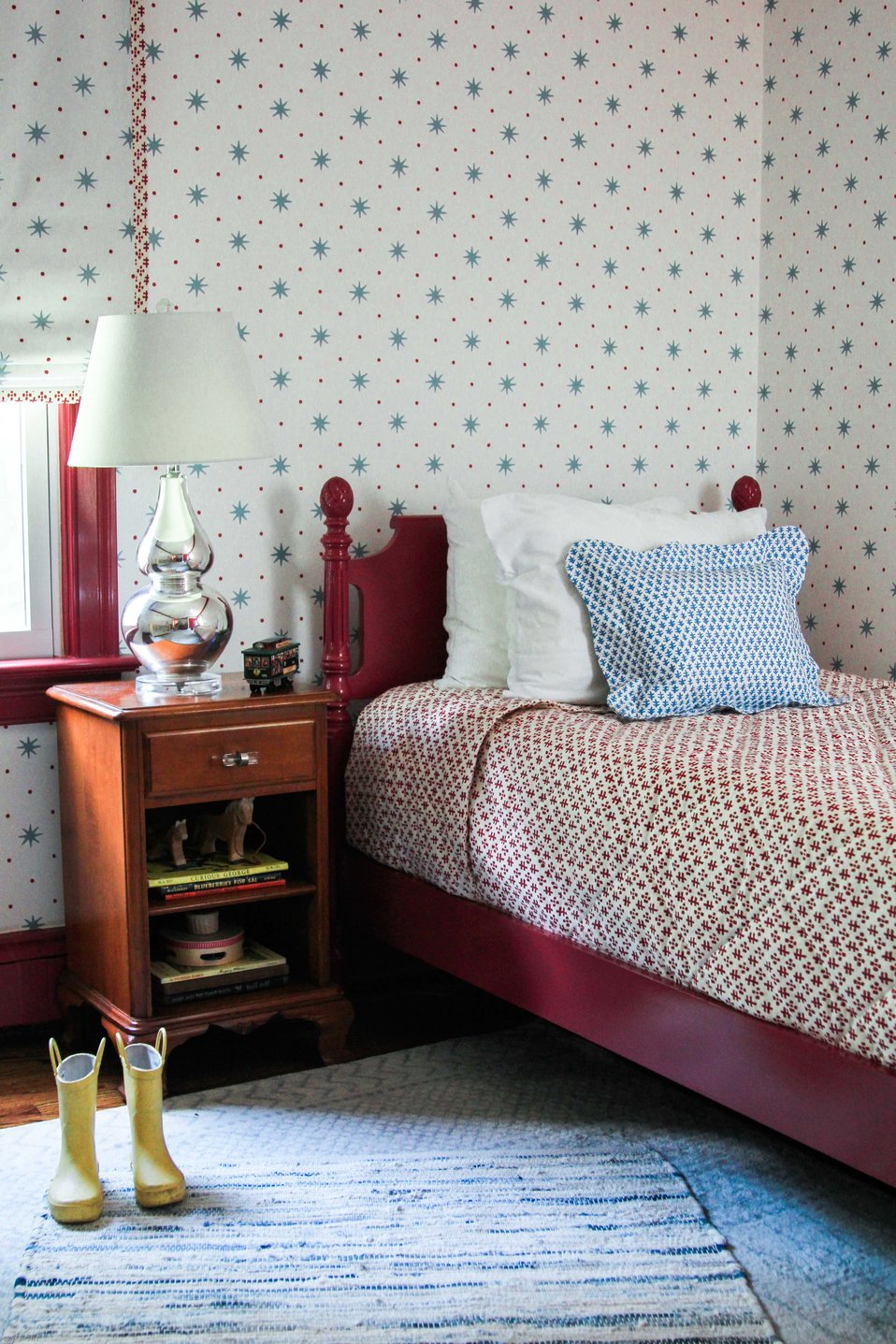 Eliza Schemes: Red White & Blue edition
It all starts with a scheme.
Eliza's tip for selecting painted trim and furniture color.
Paint Used:
Eliza used Farrow & Ball Rectory Red.
When it comes to paint colors, don't be too literal– I always suggest pulling out the unexpected color. In this case, it was the red dot in the Serendipity wallpaper. We selected this rich Farrow & Ball Rectory Red that complemented the wallpaper beautifully. This bold red also makes it so the room is comfortable for not only the sweet toddler boy Walker that lives there now, but the older boy he will become soon.
Eliza's tip for making roman shades!
Fabric Used:
Eliza used 3 yards of Serendipity in Blue Red for the main fabric and 1.5 yards of Tucker in Red for the trim per each shade. For this shade the trim was was 1" wide.
Special Details:
Apply a contrast band of fabric to four sides (top, bottom, left side, right side) as it packs more of a punch!

Decide the width of the contrast band based on the size of the pattern itself. A small all-over contrast fabric band or a solid fabric contrast band should be about 1" wide (as you see pictured here)

Ask for black-out lining, especially if you are decorating for a child!
I recommend installing your shade outside mount if it is black out lined as it provides the most coverage! I typically make the shade 2" larger than the overall width of the window (I measure the window by measuring the outer edge of the trim to outer edge of trim)
Eliza's tip for making a custom coverlet!
Fabric Used:
Eliza used 10 yards of Tucker in Red for a double-sided twin-sized coverlet.
Special Details:
Always make the size of the coverlet big enough to easily tuck in. (This depends on the mattress height so make sure to give those measurements to your work room.)
To save money on fabric use the expensive beautiful fabric for the top and use a different softer and less expensive fabric for the back.
How to Get the Look!
Click on the links to shop the room below: