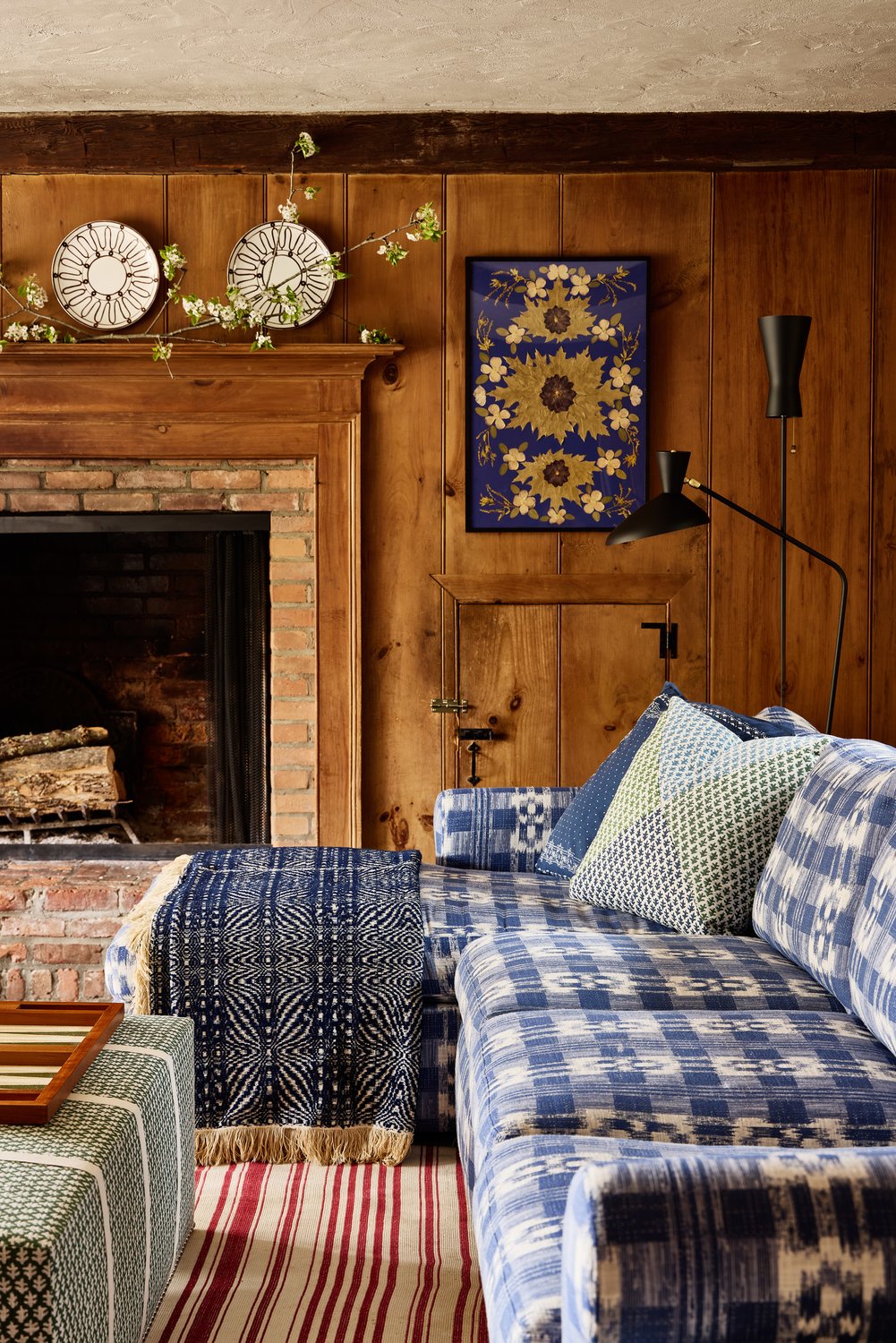 In Eliza's living room she wanted to play with the concept of 'cabin fever.' To bring additional light and airiness to the space–while celebrating those fabulous knotty walls–Eliza employed shades of blue and green from our Sister Parish Performance fabric collection. The ode to her great-grandmother Sister Parish can be found in the window curtains: a newly released fabric called Augusta. This special print was pulled from the Parish Hadley Archives and given a fresh twist with the addition of our ticking ground cloth, which of course is reminiscent of Sister's classic look.
SISTER TIP
How to upgrade your existing sectional!
The sectional from Eliza's husband's NYC apt went from football central to a fresh, colorful and child-friendly seating area that has room for everyone by recovering it in Sister Parish Mahalo Performance fabric. These fabrics are treated with Defend + making them the perfect choice for a family room sofa. Eliza created custom pillows, contrasting the Sister Parish Burmese Performance fabric adding an extra dab of chic.
SISTER TIP
Make your own ottoman!
With the help of a local workroom, Eliza designed a custom ottoman (also covered in our performance fabric) to unify the room and provide a friendly place for coffee table items and toddlers' curious forays. The beautiful upholstery details elevate the room from family to fabulous when guests arrive. In the colder months, Eliza draws the curtains and lights the fire at cocktail time just like her great grandmother did so many years ago!.