Designer: Eliza Crater Harris
Photographer: Rees McKendree
Room Type: Bedroom
Decorating the nursery for your first child can be overwhelming to say the least! Below I will walk you through my nursery do's and don'ts in hopes of helping you create your dream nursery. My son's nursery was the first room I decorated in my house and it continues to be my favorite. Here we go! Let's tackle nursery decorating!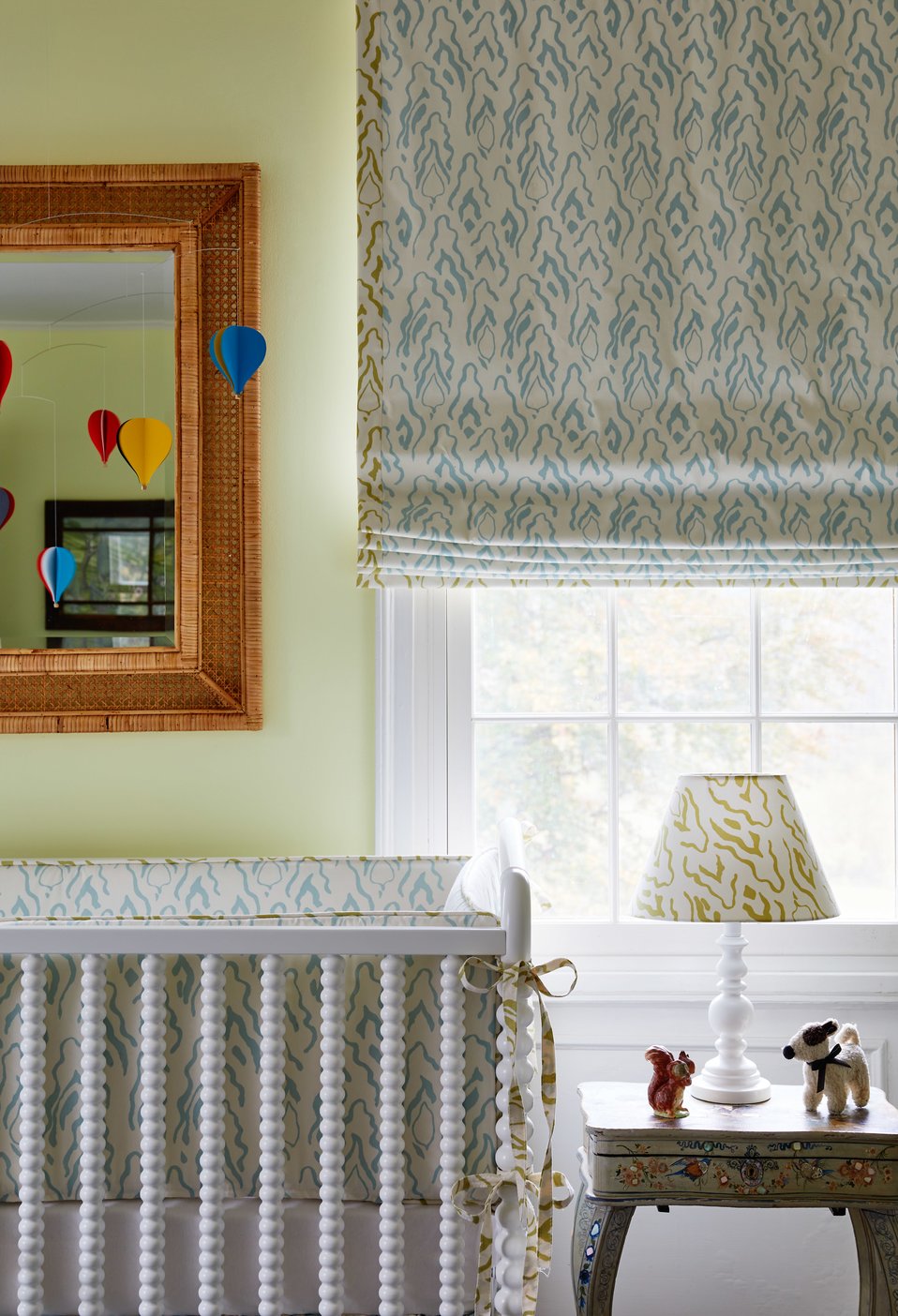 It all starts with a crib.
Eliza's tips for making a crib skrit!
Decide the width of the contrast band based on the size of the pattern itself. The Ogden pattern lent itself to a 2" wide contrast band.
Fabric Used:
Eliza used 3 yards of Ogden in Carolina Blue for the main fabric and 1 yard of Ogden in Citrus for the trim.
Every nursery needs a crib, so a must in any nursery is a custom crib skirt – the perfect starting point for your design decisions. A skirt doesn't require too much fabric and it adds an instant pop of pattern and color to your baby's room. The color and pattern you chose for the crib skirt will help inform additional colors and patterns you can layer into the space.
Something you can skip is making custom baby bumpers. I love how they look, but the baby quickly outgrows them as you move the mattress down to the lower setting.
Eliza's tip for selecting a wall color.
Paint Used:
Eliza used Benjamin Moore Summer Lime 2026-60
When choosing a wall treatment for your nursery, think long-term. You'll want to select a wallpaper or paint color that your child can grow into. With this in mind, I chose a solid color (Benjamin Moore Summer Lime 2026-60) for my son's nursery. To this day it's still one of my favorite colors! If you want to experiment with patterns (which I adore, especially in a nursery/child's room), I suggest choosing a soft, soothing paint color for your walls and then adding prints and textures through upholstery, pillows, artwork, and textiles. A softer paint color will ground the room and keep it feeling relaxed even with multiple patterns layered in.
Once the baby comes you'll have your hands full - so the goal of the nursery is for it to easily transition into a child's room so you're not feeling the urge to re-do the space as your baby grows. Keep this in mind when choosing your color palette!
Click here for our "Eliza Schemes: Nursery & Children's Room Swatch Set" which includes our most popular fabrics and textiles for nurseries and children's rooms.
Eliza's tips for blackout shades in your nursery!
Fabric Used:
Eliza used 3 yards of Ogden in Carolina Blue for the main fabric and 1.5 yards of Ogden in Cirtus for the trim per each shade. For this shade the trim was was 2" wide.
Black out shades are essential for a nursery and that precious baby's sleep. Now that you've selected your crib skirt fabric, you can either match the shades directly to the skirt (that's what I did) or pick an entirely new fabric with a corresponding colorway. (Shop our Rooms with a View collection by color which make print mixing within a colorway completely foolproof!)
Design Tips:
Apply a contrast band of fabric to four sides (top, bottom, left side, right side) as it packs more of a punch!
Decide the width of the contrast band based on the size of the pattern itself. A small all-over contrast fabric band or a solid fabric contrast band should be 1 1/2" - 2" wide. (2" wide is what you see pictured here)
Ask for black-out lining to ensure the room will be nice and dark!
I recommend installing your shade outside mount if it is black out lined as it provides the most coverage. I typically make the shade 2" larger than the overall width of the window (I measure the window by measuring the outer edge of the trim to outer edge of trim).
Eliza's tip for making pillows!
I absolutely recommend investing in custom pillows for your nursery. This is a way to add beautiful detail that doesn't necessarily have to live in the nursery forever. We carry several ready made options on our site but there's nothing like creating a few custom pillows of your own design.
Design Tips:
For the nursery chair, make a pillow "to fit the back". To do this, measure the inside seat back of the chair for the length of the pillow and the height will typically hover between 12" - 14" depending on the height of the inside seat back.

If having a square pillow made, be sure to order an insert that is 2" bigger so that the fill is super plush. (For example, if you're having a 18"x18" case made, order a 20"x20" insert.)
Click on the links to shop the room below: