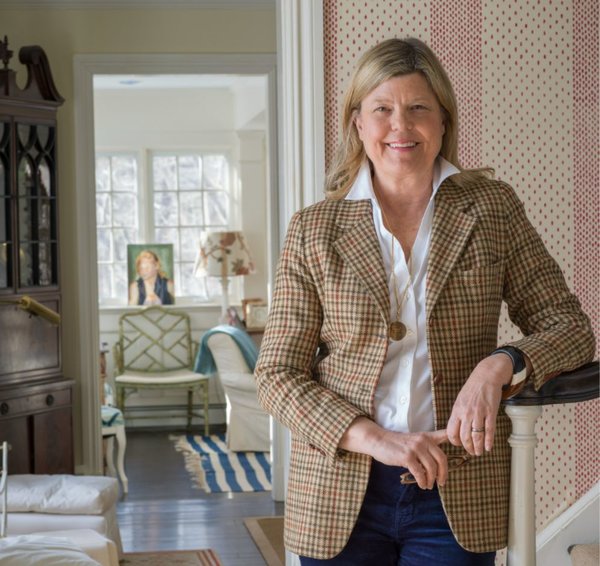 Susan Crater is the Chief Executive Officer of Sister Parish Design.
As the granddaughter of Sister Parish, Susan is dedicated to growing her family company to be what her grandmother intended it to be. Mrs. Parish was a brilliant businesswoman and interior designer, who believed in the power of home. She balanced her commitment to business with a creative flair that set her apart from other designers of the period. Her interior design firm Parish Hadley's design ethos was to make their clients feel special, taken care of, and surrounded by unique beauty.
At Sister Parish, Susan and her daughter Eliza believe in fostering a workplace that is rooted in these past principles as well as being focused on a future all its own. Susan and her team are motivated every day to be role models, inspiration, and resources for authentic, joyful, and sustainable American interior design. This sense of purpose is rooted in a list of values and core beliefs that Susan and her family are committed to.
Sister Parish Design believes in the growth of its employees and over the long term, the organization. Customers are to be treated like close friends and the team takes pride in their privilege to make their client's dreams a reality.
Susan and her team are dedicated to producing the highest quality product as well as utilizing local craftsmanship and services at all times. The Sister Parish collection of fabric, wallcovering, and lifestyle products are famously authentic, unique, and most of all, an inspiration for the creatives that the company serves.
Sister Parish: uniqueness made for you.
Eliza Crater Harris is the Chief Creative Officer of American heritage brand, Sister Parish Design.
As the great-granddaughter of design icon Sister Parish, Eliza's work honors her family's design legacy by overseeing product development, textile production, visual merchandising, and marketing initiatives for Sister Parish Design.
After graduating from the University of St. Andrews in 2011, Eliza pursued her career in the decorative arts in New York City, training under the foremost traditional design firms in the country.
Experiences ranging from set design, interior design, and product design prepared Eliza to join her family business in 2018.
Under Eliza's creative vision, her company continues to honor the story of great American houses, through the idea that decorating is to dream, and Sister Parish Design is a family of dreamers.