Learn some of Eliza's favrotie tips and tricks when it comes to window treatments!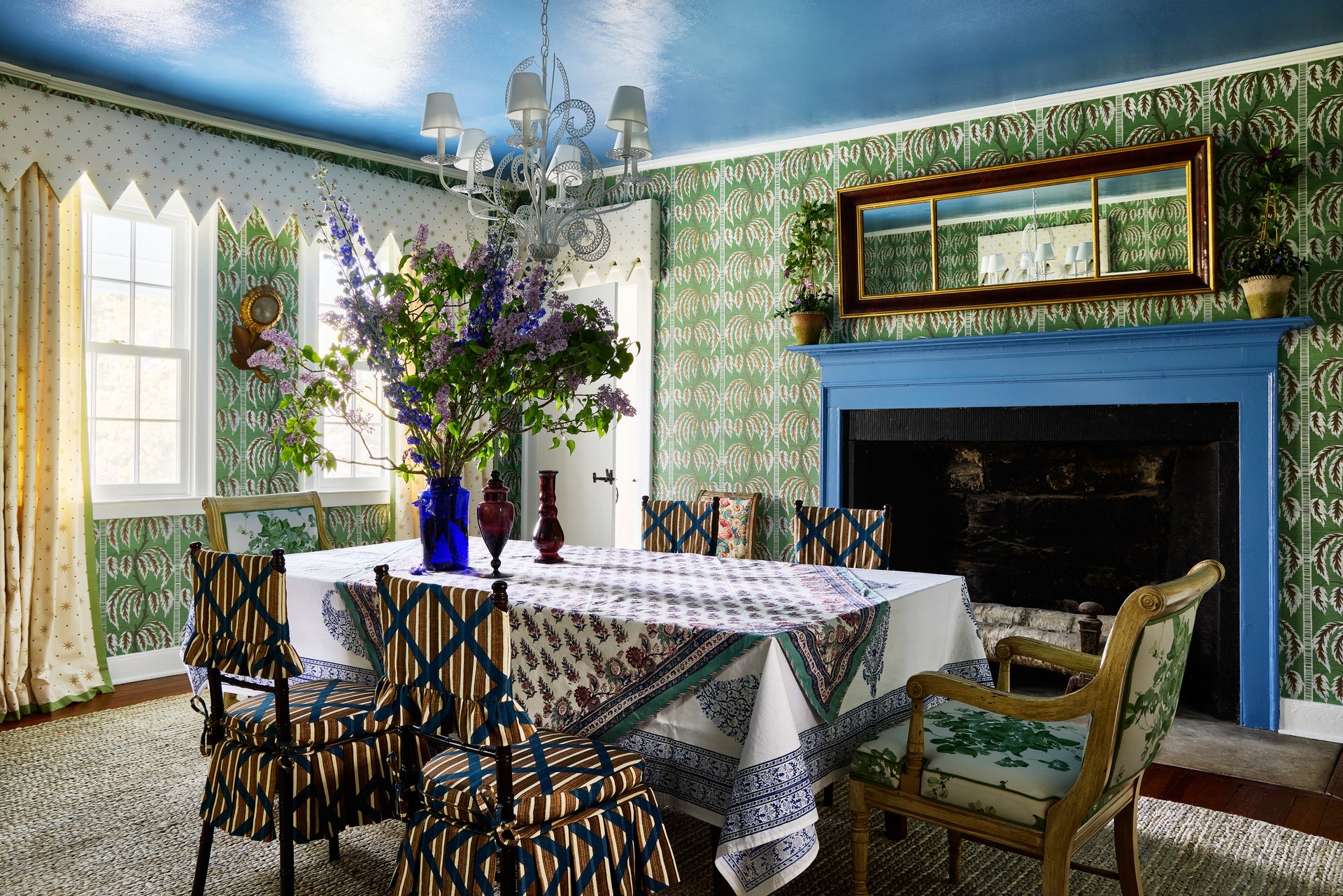 Window Treatments: Curtains
Curtains make a difference!
They absorb sound, moderate light and make a room more intimate and inviting. Take time to study how they sit in the room. Do they frame a view, add necessary privacy, dominate walls ? You need to plan according to your design needs.
Additionally, they should reflect the architecture of the house. For example, a modern house may call for simple panels with modern hardware, whereas a more traditional room may be enhanced by a more luxurious look.
Curtain Types
Double panel curtains are the simplest design and can be used just about anywhere . What is imperative with all curtains is that they close completely so they can be fully drawn at night.. While simple in design, we recommend trim to add more detail and interest.
A pelmet is a wooden valance box that is covered with fabric and mounted to the wall above the curtain. A pelmet adds a luxurious imaginative element to curtain panels.
Cafe curtains or "kitchen curtains" are curtains that are half height and usually made out of sheer fabric, such as Burmese Sheer, which allows for some privacy. These are curtains that add personality while also allowing for some light.
Curtain Length
Brushing the floor means that your curtains just touch the floor. A good rule of thumb to use for this style is that your curtains should break anywhere from a quarter inch to half an inch from the floor to achieve this look.
Breaking on the floor usually means that the curtains are an inch longer than where the curtains are hung to where the wall meets the floor. This will allow for a softer look. Allowing for 1" on the floor is also nice when you are not 100% sure you measured correctly!
Pooling on the floor creates curtains that " puddle " at the floor. These curtains usually extend 1 to 3 inches onto the floor and result in a more dramatic look.
Tips from the Workroom: Curtains
Window Treatments: Shades
Shades provide wonderful color and texture to windows and are many times a great solution to a space where curtains would appear bulky or get in the way of furniture.
They would not be complete without the addition of trims and piping which takes a simple shade and turns it into a decorative focal point of the room. From simple grosgrain ribbons to more elaborate trims, adding some trim ensure that the shades look " finished".
Shade Types
Flat roman shades provide a clean and tailored look. These shades are formed from fabric folds that stack neatly as they are opened. Eliza recommends using these shades wherever you'd like to add a blackout liner, such as a nursery or a bedroom.
Relaxed Roman Shades add a more formal traditional look. These shades are softer and feature a voluminous drape that can be used to highlight a patterned fabric.
Matchstick shades are typically made from natural materials such as bamboo or wood. These provide a wonderful texture to a window and can be used with or without curtains.
Inside Mount vs. Outside Mount
When it comes to mounting your shades, there are two main options, inside mount or outside mount.
An inside mount means the shade fits neatly inside the window frame and offers the cleanest and most minimal look possible. Accurate measurements are critical for inside mounts.
An outside mount is usually installed outside the window frame, covering the entire outside of the window frame. This mounting option is for when you want to create an illusion of wider windows or a higher ceiling.
Tips from the Workroom: Shades
copy on tips from woork room
Click here for a glossary of helpful terms for your next upholstery project.