A Porch That's Ready for Entertaining
Designer: Eliza Crater Harris
Stylist: Mieke ten Have
Photographer: Grace Wilcox
Room Type: Porch
Houses are meant to be places to both escape and to gather. Creating a space that serves both of these purposes is my goal.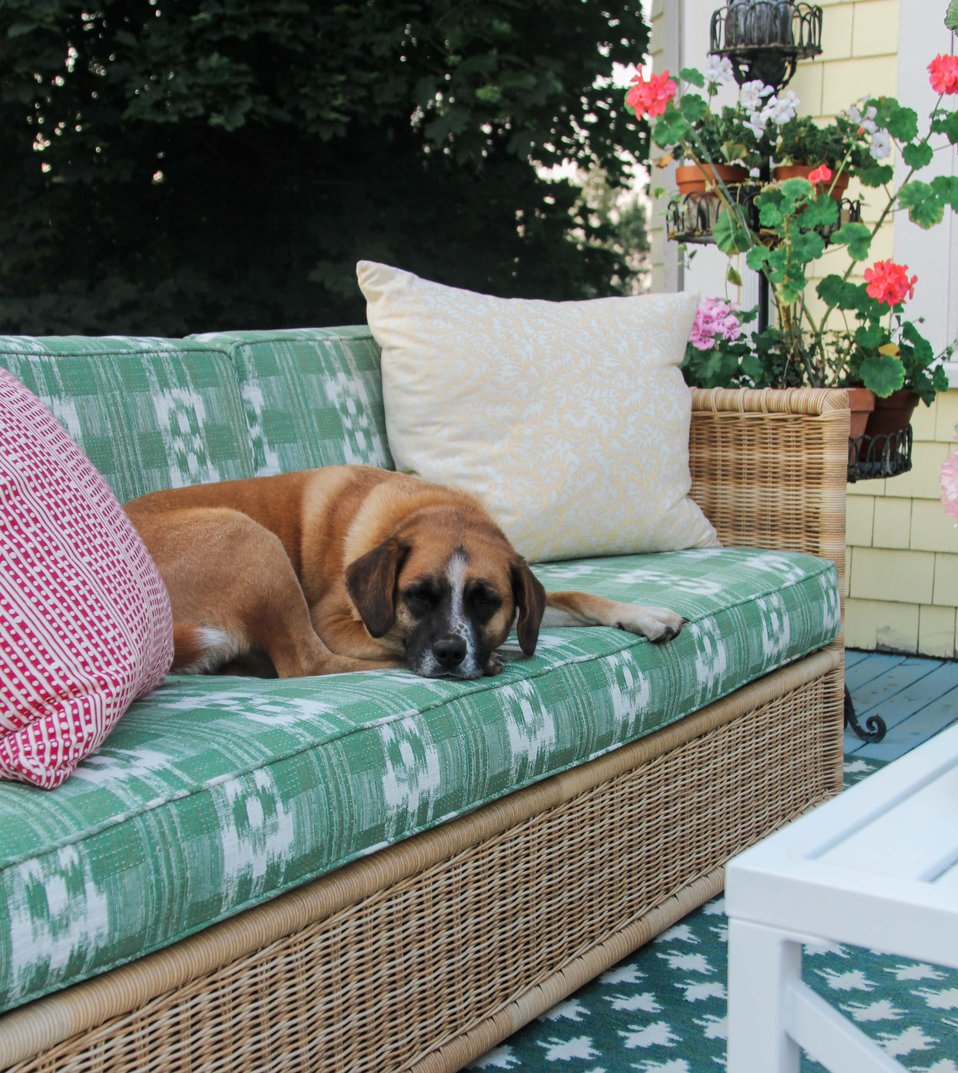 "Expressing personal feelings and memories is the essence of decorating."
- Sister Parish
Outdoor Furniture Should be Functional
Fabric Used:
Eliza used Burmese in Meadow.
The majority of time together at our Summer House in Maine is spent outside which means our furniture needs to be comfortable but also hold up to lots of wet bathing suits, sand, salt, sun – and party spills! The first thing I did after we launched our Performance Fabric in 2021 was recover almost all of our outdoor furniture in Maine. I love that with this new performance technology our cushions will continue to look fresh summer after summer.
Fabric Used:
Eliza used Mahalo in Meadow and Sage Brush.
Scour tag sales, estate sales, Facebook Marketplace, thrift stores, etc. for wicker, wood, or iron sets that will hold up to being outside but won't break the bank. Even if they're a bit worn it's usually nothing a bit of sandpaper and a steady hand with the spray paint can't fix! I recommend having the cushions recovered in performance fabric to make them last. The fresh cushions will give the secondhand, budget-friendly furniture a totally custom look and feel.
Fabric Used:
Eliza used Burma in Spice.
When setting the stage for an outdoor soiree, don't be afraid to bring some of your indoor furniture outside! Dragging out some comfortable chairs and stacking your furniture with comfortable pillows and cozy throws creates an inviting environment. The same can be said for decor – don't be afraid to browse your bookshelves and china hutch for curiosities to add to your tablescape as well.
The key to elevating the mood of any party is the right lighting – outdoor entertainment is no different! If there is no wind, line the tabletop with candlesticks. If it's a blustery evening, hurricanes add a dreamy glow and will protect the flame from blowing out as well. Also, you can never go wrong with votives and tealight candles (with clear plastic bottoms) scattered around the porch and tablescape adding an ethereal glow to both your decor – and your guests.
How to Get the Look!
Click on the links to shop the room below: